Idea for film...

EXT. OUTER SPACE, NIGHT (INT.? DAY.?)

Norrin Radd, the SILVER SURFER thrashes about the ionosphere, trapped in what Dylan Moran once called in an interview with Jonathan Ross "The washing machine of your own mind"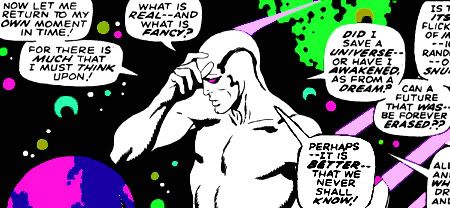 Suddenly...

HUMAN PORCH:
Hello, pal.

SILVER SURFER:
Who are thee? Thou? (Art thou?)

HUMAN PORCH:
I am... the human porch!

SILVER SURFER:
The human torch?!

HUMAN TORCH:
Torch, yes. Thank you.

SILVER SURFER:
But who is that mortal hanging from your flank?

DAWKINS:
God, eh? What a petty, unjust, unforgiving control-freak!

HUMAN TORCH:
It's Richard Dawkins, buster! I'm trying to give him a glimpse of the ineffable. Pang!

DAWKINS:
What a vindictive, bloodthirsty, ethnic-cleansing, misogynistic, homophobic, racist, genocidal, capriciously malevolent bully!

HUMAN TORCH:
And I thought the heavens might be just the crazy, wing-ding place!

DAWKINS:
I defy anybody to disagree with any of those epithets.

ULYSSES 31:
He's got a point.

DAWKINS:
Also, have you ever noticed - right - how...

SILVER SURFER:
Okay. Do you know Galacticus?

HUMAN PORCH:
Galactus?

SILVER SURFER:
Sorry. Yes. Galactus, the Devourer of Worlds. Size of a planet. Big hat.

DAWKINS:
And the cosmos, eh? Bit overweight!

HUMAN PERCH:
Yes. He's so tall though, why does he need the big hat? Chiwawah!

SILVER SURFER:
He's big, but he's not tall. Actually he's quite squat from a distance -

DAWKINS:
Why he's such a hit with the Hindus.

SILVER SURFER:
- of about five hundred thousand miles.

DAWKINS:
Ganesha, eh? What an elephant-headed, rat-riding...

PETER CROUCH:
Yes, but the hat if anything just makes him look more squat. (baby)

SILVER SURFER:
Okay, but anyway, if thou lookest over there. Thou seest all those - well, those worlds?

HUMAN TOUCH:
Mm-hmm-hmm.


SILVER SURFER: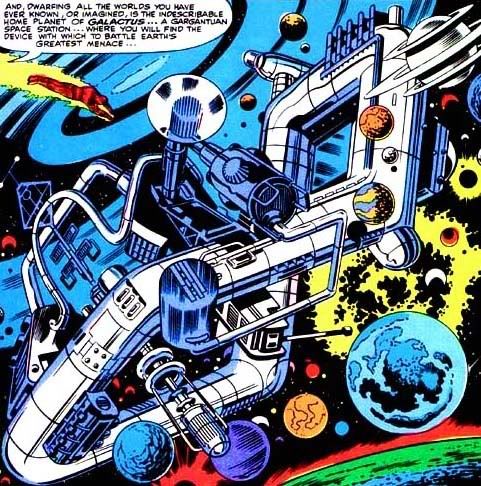 DAWKINS
Bloody Hell!

HUMAN TORCH:
Cheers, Norris.

SILVER SURFER:
Norrin.

DAWKINS:
Bloody, bloody Hell!

KRISHNA:
Okay? Now piss off back to the lab, Dawkins.

STAN LEE:
The end?