Last night I think I finally cut the Gordian knot of "Iago's Little Book Of Calm". I cut the Gordian Knot, stole the Gordian posts and then bombed Gordia, electronically deleting all references to Gordia in the process. The play probably lasts seven minutes now. Good. It should always have been slight as a paper cut, I'd just forgotten.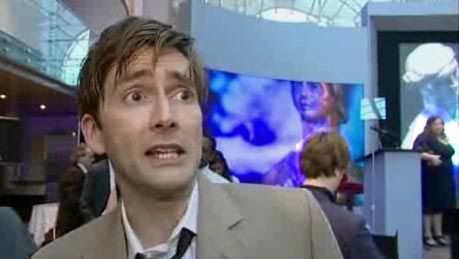 And here I appear to stand behind David Tennant, unshorn and taking a private snap of Ella with her Ev*n*ng St*nd*rd statuette for Outstanding Newcomer. Claire Bloom was in that room. She's worked with Chaplin. I have nothing very coherent to say about the afternoon right now... when you hold the award newsprint comes off on your fingers I noticed. And Charles Dance had a hacksaw in his pocket which was odd. And I was very, very proud. And everyone was nice, and happy, and interested. Ella's speech seemed to go down well, which was good as we'd hammered it out in Cafe Nero half an hour before and really made an effort:
"Hello. Thank you very much. I'm very pleased to be here. Thanks to the cast and to Neil Labute for putting me in a play called Fat Pig. I'd also like to thank the producers of Fat Pig. And everyone who came to see Fat Pig. That's Fat. Pig. I hope you all have a lovely afternoon. Thank you, I'm really really chuffed to bits."
Textbook! Go Team! Go Ella!