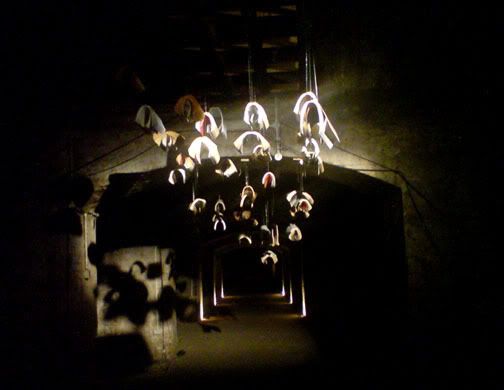 So the Lounge has reopened. Excellent.

Now: At two in the morning I finally considered the possibility that the accumulation of books and coats and scraps and dice and educational stickers from Kuwait and stocking-fillers (thirty-two years' worth) left to me by my emigrating parents nine months back may never in fact see the outside of a stacked box again... that having holed myself up in a rattling room with enough wallspace or, failing that, floorspace to postpone indefinitely the fate of every single object I have ever owned or made I may now, in fact, in short, be stuck... in a big and cheap room in a loved house, but still stuck. Then again, this is how inventions happen, isn't it? But it's also how "The Italian Job" ends... And I'm not sure I should spend the rest of my thirties on my knees in a teetering coach.

Ned Mond's traveling around Europe right now, calling himself Ian Jones and clutching his dearest possessions to his chest in a tin of Bisto, enviably. It's a fiction, of course (an internet campaign for Ford as it happens) but a fiction that Ned will both script and act out in his own clothes and facial hair for the next three months, which by my calculations makes for a pretty hefty fact-fiction intersection: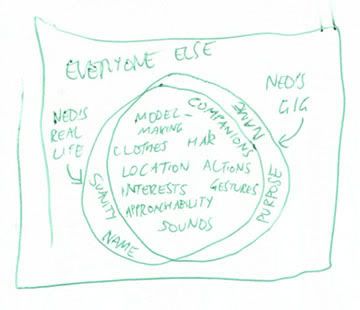 "We are what we pretend to be," says Mother Night, "so we must be careful about what we pretend to be." Well Ned has gone for a more socially backward and protectable persona than his non-internet self. And who doesn't?

Goths.

One of the most interesting aspect of all this is the option of joining him out there, fictionally. You go to wherearethejoneses.com, write up your own character, send in the audition tape and wait for the call. It's a bit like the site Second Life, I assume, but real. Oh, speaking of which... Here I was going to post a youtube link to a fat avatar walking naked and soulfully around Second Life holding a big sign up saying "Free Hugs" and sporting a very unruly, six-foot phallus, but they've taken it off.

And "Big Nick" is hitting the road too, leaving the Dungeons after nine years service to be by the sea with the woman he loves in his sixty-second year. And we all met up in the Shipwright's, colleagues past and present, reunited to say goodbye. And there I bumped into the woman who three years back said "If I kiss you I think I'll see another side to you. A sweeter side, a more tender. And that's not a side to you I want to see." And I bumped into M. Berry, who's just put up a poster on F*c*book for a film he's starring in. It's called "The Devil's Chair." There's no tagline, but I suggested: "Oh sorry, yes sometimes it does that."