Just trying out a couple of images to flash up on the big screen in the event of a technical hitch the day following
John McCain
's inevitable election victory. I'll be sitting above the bar in Shunt covering the panic, skyping the States and fielding any questions you may care to scrunch into a ball and throw up at my feet as part of
Gemma's fortnight
curating the Lounge. I might also keep a gun on the news-desk to repel stage crashers, it'll be a reckless, red, misty hoot! Then on Thursday, once everyone's woken up to the irremediable fuckedness of the American spirit once again, I'll be hosting another
Nijinsky Karaoke
. A nice couple of gigs. Pop in.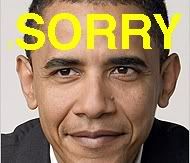 Tonight's Halloween celebrations
also look very promising. I'm off to Broadcasting House to watch some sketches so won't make it, but when I was over there this morning they were putting the finishing touches to a whicker man in the penthouse and the itinerary I glimpsed in the kitchen mentioned a "pig filled with blood". I also overheard Andrew Rutland refer to a "blonde wig that makes me look like a Mexican prostitute, fortunately they'll only be seeing me from behind" which can only mean he's finally given up trying to hire a lookalike to cover the non-appearance of Jarvis Cocker and opted instead for distracting the crowd with his impression of Britt Eckland, which would have been fun to watch.