1. The Simpsons Movie: Tom Hanks
Tom Hanks makes a guest voice appearance in this feature length outing from the Simpsons... AS HIMSELF. Easter egg!
No?
2. Underground: Miki's Cameo
What about this? Towards the end of Emir Kusturica's black farce "Underground" keep an eye open for the actor playing the actor chosen to play Miki Manojlovic's hilarious black markeeter "Marko" - it's actually Miki Manojlovic, the actor who plays "Marko"!
Is this more the kind of thing?
3. 2001: A Space Odyssey: Leonard Rossiter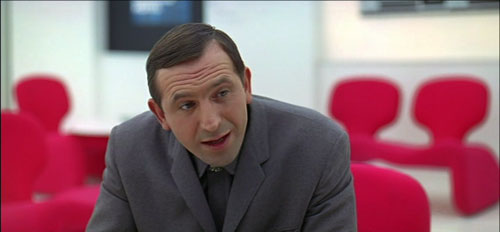 Leonard Rossiter?
4. The Godfather Part II: Brando Nod
Robert De Niro won an Oscar for his performance in Coppola's acknowledged masterpiece. But did you know that his character's name - "Vito Corleone" - is a nod to the actor MARLON BRANDO who played a character with exactly that name in The Godfather Part I?
5. Ten Little Indians: Who Did It?
Hang around for the final scene of this Agatha Christie thriller where it's disclosed who actually committed the murder.
6. The Spy Who Loved Me: Post Credit Sequence
And be sure to stick around for the end of Roger Moore's second outing as James Bond, or you'll miss a spectacular TWO-HOUR-LONG post-credit sequence (!!!!!) in which the secret agent saves the world from a megalomaniac who steals nuclear submarines.
7. Labyrinth: WHAT did they say?!!!!
When the film begins turn the volume up and you'll be able to hear what the characters are saying.
8. Performance: Borges on the Brain
Eagle-eyed fans of Jorge Luis Borges will also receive a nice surprise at the climax of Donald Cammell and Nicolas Roeg's psychedelic gangster fantasy "Performance" when a blink-and-you'll-miss-it image of the celebrated writer and critic appears behind an exploding mirror during the tracking shot down the bullet hole in Mick Jagger's punctured skull.
And also throughout the rest of the film when all the characters kept quoting Borges.
Is that one? That's definitely one!
9. Fear and Loathing in Las Vegas: Blast from the Past
Author Hunter S. Thompson called Terry Gilliam's adaptation "an eerie trumpet call over a lost battlefield" and many assumed the film's giant lizard scene was taken directly from the book. IN FACT Gilliam himself confesses he actually included the sequence as a small homage to Whoopi Goldberg's 1995 straight-to-video, dinosaur/futuristic-cop buddy movie "Theodore Rex"!
Which is why it's shit.