Of course that should be "recommend" in the last post. I kept the misspelling in to communicate a sense of urgency. How do you think I did?
And where was I?
Well a year ago now the house caught fire, but nobody died, not even Kato the cat. It was kind of fine. The place has double-glazing now, although you can still make out the scorched paintwork above what used to be my windows, see? I took the above photo when I went round to
Morgan
's to pick up post. He lives next door. He always has. That was in... August? I had a swimming pool in August, I may have mentioned. I was living here: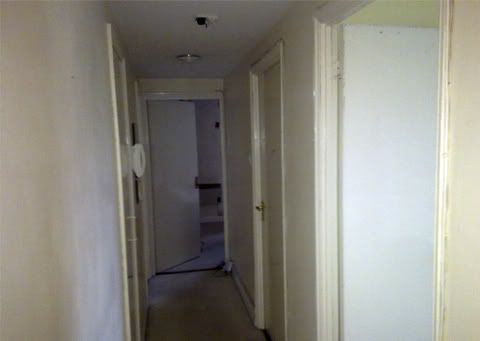 Real twenty-first century stuff. It was called "Osprey Heights". That's my room at the end of the corridor. Then there was Cesar's, but he moved out, and then this room, as seen: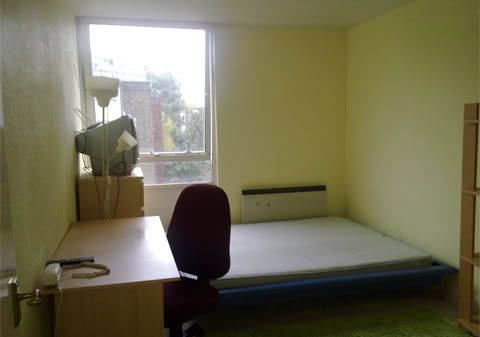 No permanent occupant, but every two weeks a different Israeli in his early twenties would move in. The first one asked to have a television installed. I was always welcome to watch it. None of them ever unpacked. They never shut the door. They all slept with the light on. I didn't mention the show to them- Hey we also had a gym! And it was eighteen storeys tall. Imagine the view! Don't, it's here!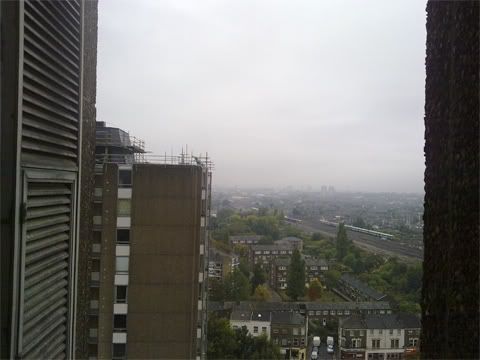 Down a bit...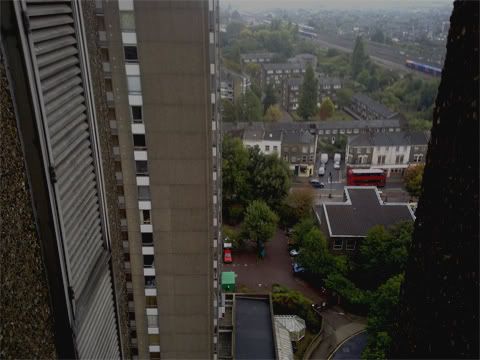 Down a bit...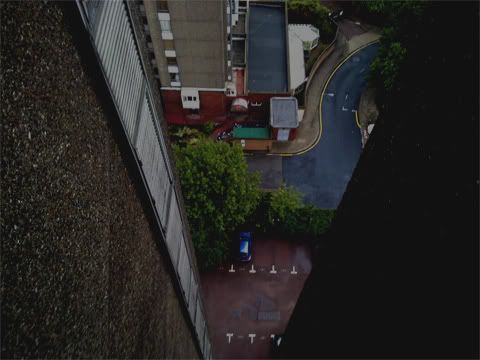 That's your lot. Sorry but the windows are a bit narrow- And we had a sauna! And gates! Big gates! All it lacked was a garden.
So in October the lease ended and I moved out. And into's Morgan. That's really the point of this.
I'm in Brixton again
. With Morgan and his paints and the sign that says "Sea View" and the little Easter Island statues he sticks into alcoves of the Ritzy. And a nice guy called Ed who makes synthesizers from kits. Oh, and Kato!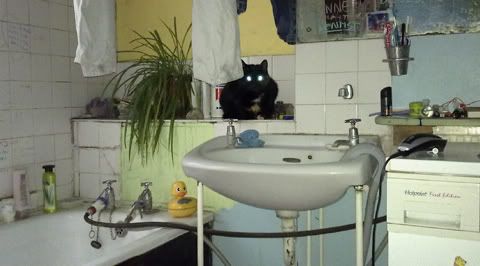 Morgan painted that for me when I moved in. He's out at the moment, working on a totem pole. There's a chain-saw on the spare fridge in the kitchen, what the place lacks in bannisters it makes up for in carnivorous plants, there's never a shortage of crayons and this is my new view if I look down:
... which I prefer. If I look a little to the right there's a garden with a telly in it and a family and the faces we chalked on the bathroom wall for Fin's birthday, back in - wow... 2000. Yeah. It was time I moved.