Blimey is that the time?

Three in the morning. Um - Ah. Look. I found these:




I can't stay. Sorry. I shouldn't even be here.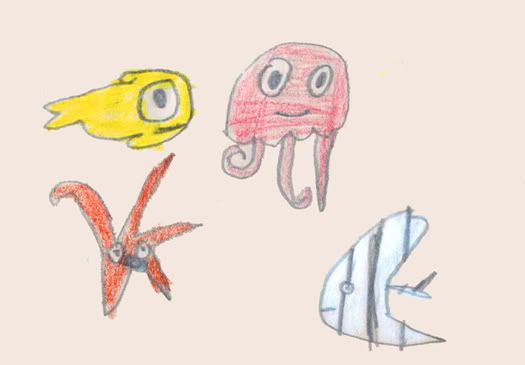 Look! I did those when I was four! How cool!

If I had more time I might argue that the unloading of all this stuff actually relates to a conversation I had in Cambridge today about ideas, the instant of an idea, the storing of that idea, the writing down of it, the changing of it, the losing of it, and cleaning. I've been asked to participate in something called "I shall never be clean". I'll explain. Just not now. "You can't clean anything without making something else dirty," Jeremy pointed out, and I think this project of his is going to be a bit of a clearout after ten years of not making. And those are often very good.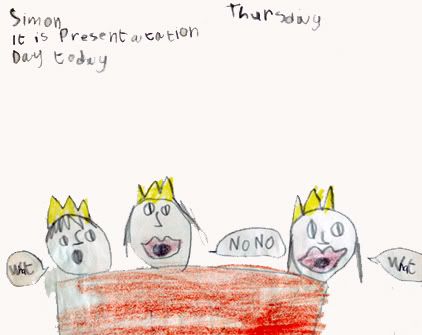 Actually as I'm here I might as well clear some things up:

My phone is now working again after a couple of sessions on the radiator, but its session in the coffee has made the joystick stick a little. Joylessly.

The documentary I was voice-overing yesterday for the SciFi channel turned out to be about "Heroes", and not Mary Shelley or string theory which I'd sort of guessed really. And it turned out I'd been hired by Steve Hore who made that show-reel where I get born. Surprise. Lovely.

It's pronounced "George Ta-KAY" apparently. Not Takeye.

Laurence and Gus had their final table-read today, which I couldn't make (Cambridge, see above) and having totally failed to make good on a promise (at least to myself) of an epic sketch concerning Elizabethan conjuror (read "map-reader") Dr. John Dee and his earless, klepto stooge Ned Kelly I submitted instead some last-minute stuff that was old and weak and listlessly tinkered with at five in the morning WHICH IT IS NOW AS WELL!!!...

NO!!!

HOW CAN IT BE FIVE?!?!? Hhhhh...

Anyway - thereby ending with a snivel and a whimper an assignment that up until that dawning has been all grins and zeal.

Anyway.

And Shunt are giving me everything I ask for and more regarding "Jonah". Which is incredibly exciting but does mean I have get some work done now. Or maybe fume with hubris and balls this up as well. I see Chris Goode (see past strands and tangents) has kindly posted the following plug on his blog, which has made me laugh and will have to make do in lieu of a press release. Now GOOD NIGHT. NIGHT. GOOD NIGHT.

"This revival might be garbage, who knows, but the several times I saw it at CPT, it frightened and baffled and upset me and made me laugh, all in ways that I normally associate only with getting out of the bath in a heavily mirrored room. It is ruthlessly inventive, acutely painful and, oh, stuff. It is also very titillatingly close to this new invention of mine called theatre."