I'm well, thank you for asking.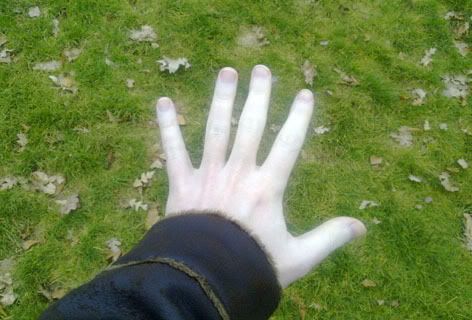 In fact I think I'm all well. I would go for walks on Hampstead Heath and check on my hand to see how my body was doing like I used to in hospital then see that it was glowing and have to find a bench, but that was back in February...



And well now, how to get from there to here? Am I just going to write everything? Maybe I should start by making my excuses:
1. The lease ran out on my photoshop, which is half the fun of these posts for me (so these images are bigger and duller than I'd like).
2. I *was* of course going to write about my
steroid-induced psychotic episode
next (so very
Christian Bale
, so very topical back in February) but thought better of that until I'd found somewhere to live... which now I set it down in print strikes me as incredibly paranoid. Or is it? I don't know. Ah. No but if I were vetting potential flat-mates I'd probably google them to see if they'd, say, started any fights in hospital with a club-footed Maori. Then again, to paraphrase Lenny Bruce, I'd google
mud
.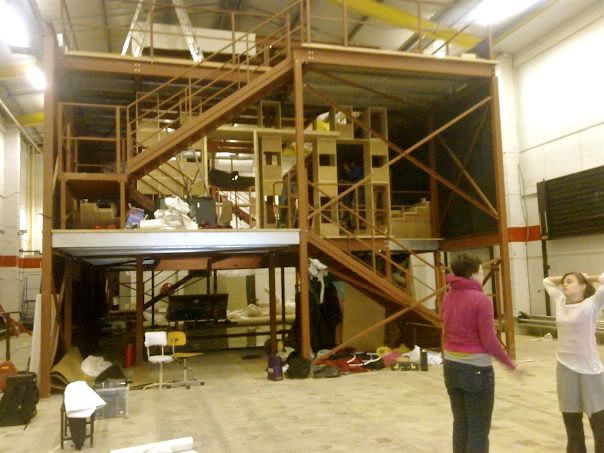 Hmm, these paragraphs are more widely spaced than I remember, Yup, big spaces... Anyway I moved out of Susy's at the end of March into a long, uncarpeted, white-washed room in a large, airy, joss-sticky flat in Gipsy Hill and I lasted there a month. The land-lady didn't like my hours, and who can blame her? The floor-boards creaked, her room was right outside the bathroom, she slept with her door open so actually yes I for one can blame her, but a home's a home and that was hers and I'm not even sure I want one right now.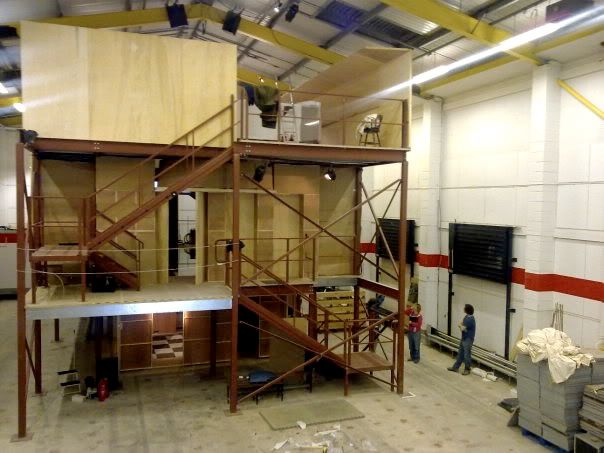 Time passes, shut up! as Dylan Thomas once wrote, and I've found a room now with a carpet and a coffee table three storeys up a
tower-block in Clapham Junction with gardens, pool, sauna, jacuzzi
and loudly wuthering heights. I'm holed up across from the busiest station in Europe, I've found a Complete Works of Shakespeare for a pound and Dr. Thompson's incomparable "Great Shark Hunt" for three, I'm pretending I'm on tour or a scatty writer assigned to LA, my stuff - the charred and the saved - stays in storage until I can face it, and the big money's been coming in fine from
Shunt
whose new show's more physical aspects can here be seen under construction.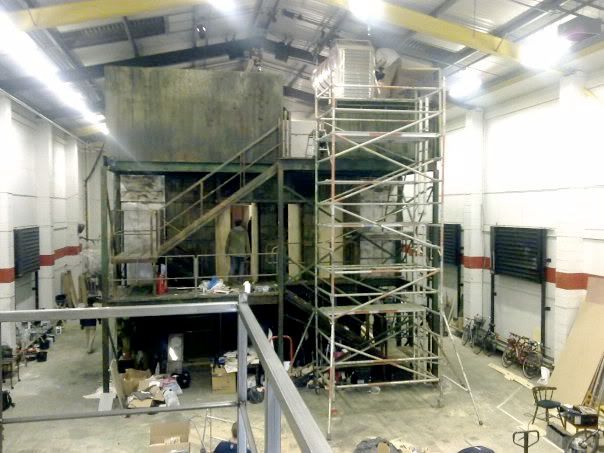 In fact they're still under construction. And with nowhere to work and the director up in Scotland we have this week off. It's okay though, it's all fine, I'm just in it for the company and the money that's what I've got to keep telling myself. I mean, it's great! I'm better! I can do winch-work and wrestling and I've got a pool and a sofa! And I've got work, biggish commissions for both LaurenceandGus' and MitchellandWebb's new radio shows, and it's work I can actually do (new stuff got laughed at)! AND the insults
Charlotte Hesketh
and I have been throwing back and forth across f*c*b**k for the past month now number a hundred, so I can finally leave that! And here we are rehearsing: Hey
Spacey
, copy THIS!
Whatsamadda Kevin Spacey, you chicken?! Oh yeh, you all "I'm going to get a railway arch and put art in and shit" and we all "Let's drop this flowerpot on the director's head a number of times before he leaves" and you all "Good luck with that then" and we all "Ow, uh...." Yes well lots to catch up on then. Hello again, thanks for sticking around. A post every other day as promised, once. Join me tomorrow for those hundred insults then. I'm better. This is easy.
(Oh yeah, 3:10 AM. I remember. Hmm... still big spaces.)